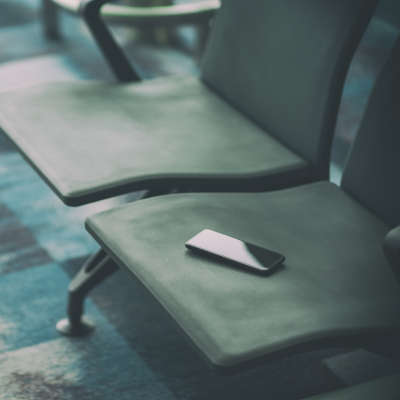 Tip of the Week: What to Do Before You Lose Your Phone
It isn't like anyone actively means to lose their smartphone, but stuff happens. After all, many of us have our device in-hand for most of our waking hours, so there's plenty of opportunities for it to be left behind somewhere. Fortunately, there are ways that you can set up your smartphone to help track it should it be lost, whether it's an Apple device or on the Android platform.
Keep in mind, neither of these methods are enabled by default, so you'll need to play in your device's settings beforehand.
Keep Track of Your Android Device with Google Find My Device
Android users can download an application called Google Find My Device from the Google Play Store. Once the app is installed and accessed, it will prompt you to log in with your Google account. Make sure that the password to this account is sufficiently secure, and that you Allow Find My Device to access this device's location when asked to do so.
Doing so will enable you to use Find My Device to track and manage your mobile device, if Wi-Fi and GPS are enabled, by signing into Google's Find My Device website. As always, you should make sure that the password to your Google account is sufficiently secure to eliminate the chance of someone else logging in to track your location or wipe the data from your device.
Enabling Apple's Find My iPhone
Built into Apple's iCloud platform is the capability to track a lost iPhone, perfect for when you've accidentally set it down someplace and left it behind. While it might even be of some use in the case of a stolen iPhone, we recommend that you instead file a police report, rather than trying to track it down.
Furthermore, Find My iPhone can also allow you to delete all the data stored on the lost device. This will help protect you from identity theft, account breaches, and otherwise abusing your data. These features aren't going to be enabled by default, so you need to activate it for it to work.
On your iPhone or iPad:
Open Settings.
Access the iCloud options.
Switch the Find My iPhone/iPad slider to On.
If you've never set up the iCloud account on a particular device, you'll be taken through the steps. We recommend that you use a strong and unique password for your iCloud account to minimize the possibility that your device is tracked, locked down, or wiped. Touch ID and Face ID are also recommended as authentication measures and can be activated during the device's initial setup or in Settings, under Touch ID & Passcode.
Once you've done so, you'll be able to log into your iCloud account to track your device, if your iPhone is turned on and Airplane mode isn't activated.
Ideally, this is one feature that you'll never need to take advantage of. However, considering the value of the data commonly stored on a mobile device (never mind the value of the device itself) it is better to be safe than sorry.
For more IT and cybersecurity best practices, make a habit of coming back to Macatawa Technologies and our blog, or reach out to us directly at (616) 394-4940.